Date Published
January 20, 2022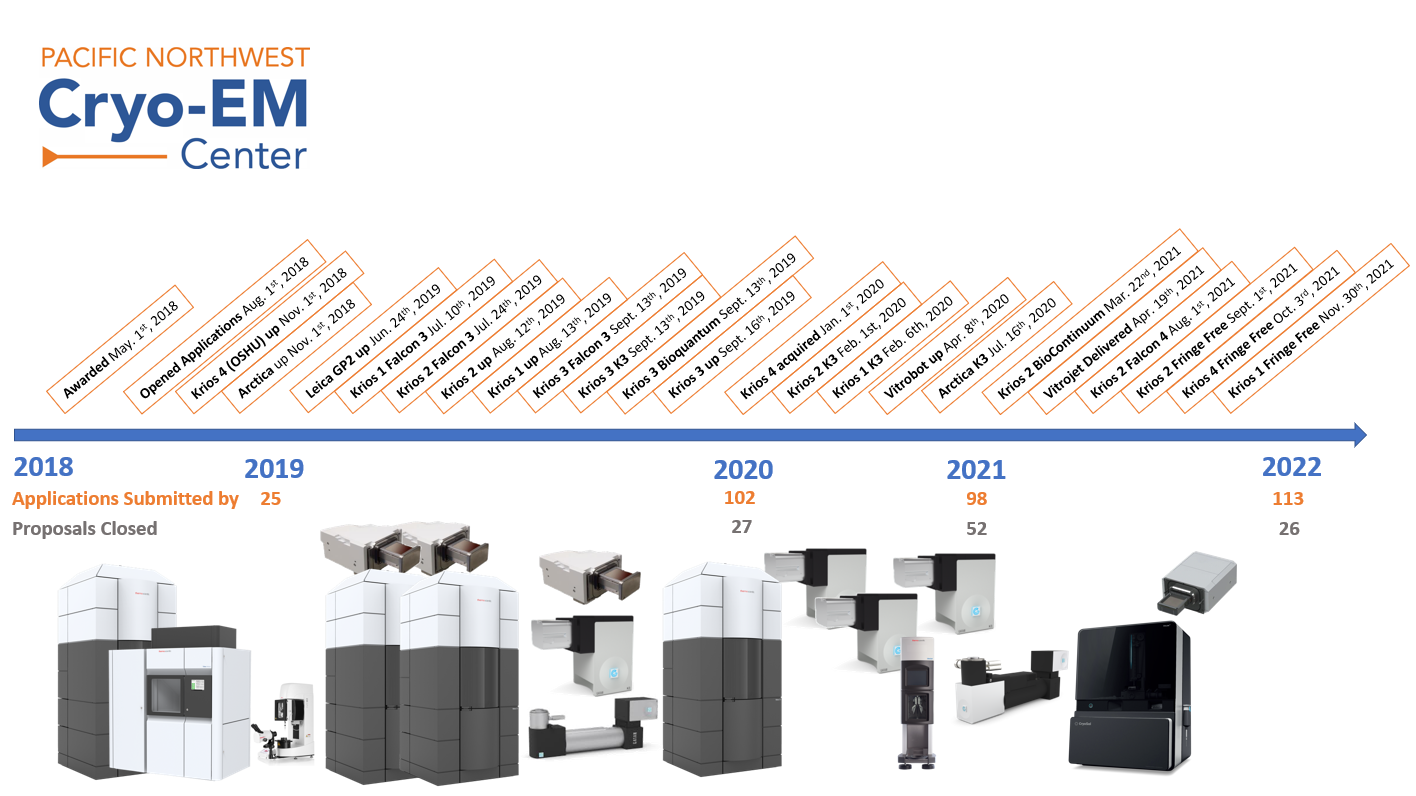 The Pacific Northwest Center for CryoEM (PNCC) started after the award of a U24 grant by the National Institute of Health (NIH) on May 1st, 2018. We would become one of three CryoEM centers pioneering service and training to scientists. Soon after, Oregon Health and Science University (OHSU) published a news article about this. PNCC is a collaboration between OHSU for the physical location of the microscopes and Pacific Northwest National Laboratory (PNNL) for the data center and user experience. 
OHSU already had a location for cryoEM on their waterfront campus in Portland, Oregon. Robertson Life Science Building (RLSB) has a specialized basement with a 5000 square-foot concrete pad, supported by over seventy 200-foot pylons. The concrete pad is surrounded by a 50-foot-deep moat that isolates the pad from the main building to reduce environmental vibration. This construction creates a low vibration microscopy suite in which the PNCC Microscopes are housed. To further reduce vibration, the microscopes sit on active tabletop vibration cancellation platforms. 
The PNCC opened our user applications on August 1st, 2018 and approved the first proposals by October 30th, 2018. OHSU donated their existing Arctica to PNCC on November 1st, 2018.  PNCC purchased additional microscope time on OHSU's Krios and sample preparation time on OHSU's Vitrobot during this year. PNCC started scheduling proposals by November 1st, 2018. Initially, PNCC had three different proposals named: Rapid, Standard, and Programmatic. These proposals differed by hour allotments and duration. We received 25 applications by the year's end.
During the center's first year, the RLSB was renovated by OHSU to fit three additional Krios that were all installed in the summer of 2019. One Krios was purchased by OHSU and the other two by PNCC. Different configurations were chosen for our microscopes. Two Krios were installed with the Falcon 3, and the third with Falcon 3, K3 direct electron detector, and Bioquantum-GIF. We also expanded our sample preparation capabilities by obtaining a Leica GP2.
The PNCC received a supplement from the NIH on August 22nd, 2019. To celebrate this award, OHSU published another news article. We used the supplement to upgrade two of our Krios to K3 and purchase OHSU's Krios. Although we were busy with serious upgrades, we decided to have an informal naming contest for our microscopes in 2019. All our microscopes are named after the "cool" rappers – Ice T, Ice Cube, Kool Keith, and LL Cool J. When we added a fourth Krios, we welcomed Coolio to the mix. You can see these names and microscopes when you visit on-site!
As a national center focused on improving our user experience, we listened to user suggestions and changed our user applications in 2019. We simplified our proposal to Limited Access and General Access. We eventually retired our Limited Access proposal in early 2021 to give users with fewer resources an opportunity to receive longer hour terms that are approved by PNCC staff. On average, 100 proposals are submitted to our center per year.
We have continued to upgrade our center's equipment with the generous supplements from the NIH. We upgraded our Arctica to have a K3 direct electron detector and added a BioContinuum-GIF onto one of our Krios in 2021. After these installations, we began upgrading all our Krios to Fringe-Free Illumination. At this time, three of the four Krios have undergone a fringe-free upgrade. 
The technological upgrades didn't end at the microscopes; we heavily invested in sample preparation equipment. We purchased our own Vitrobot, in addition to the Lecia GP2, to provide flexibility to users. In 2022, we hope to expand our user sample preparation offerings to include the Vitrojet. The Vitrojet is the next generation sample preparation device that we purchased and installed in 2021.